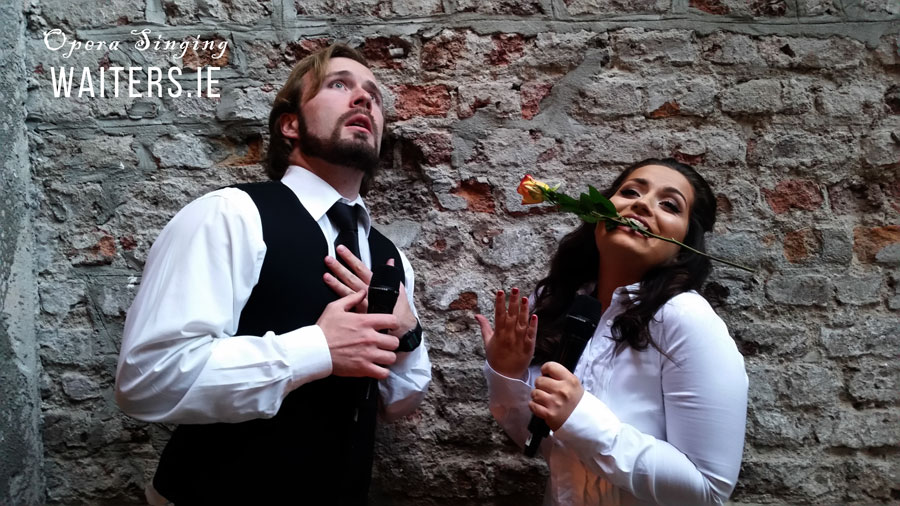 1. The Opera Singing Waiters are an original music surprise entertainment concept that remains unbeaten and of course we only represent the singing waiters vocalists Ireland has on offer.
2. We guarantee Standing Ovations during and after the performance. This act brings a highlighted sence of emotion into any room
3. Look at the Glowing testimonials from Failte Ireland and exclusive performances for Jack Nicklaus and many other famous personalities.
4. The Opera Singing Waiters deliver that WOW factor your looking as unusual entertainment for corporate events or wedding entertainment with a fun factor with classical and Opera music all rolled into one.
5. Easy booking with one call to + 353 1 201 3660, choose from a 2pc or 3pc version with Opera or Irish Classical Hits with the odd big rugby track thrown in or your favourite contemporary songs.
6. The Opera Singing Waiters are a great way of bringing energy back into the room after food is served.
7.Our Classical Singers interact with the audience, moving from table to table creating energy and fun around the room.
Winner "Best Entertainers" 2012 Event Industry Awards
From: Judy Conroy Date: 13 July 2014 17:02:18 GMT+01:00To: Suzy Cousins
Subject: Re: Judy Conroy | July 2014 | Cavan
I just wanted to send you an email to say a MASSIVE THANK YOU for the performance you gave at our wedding Everyone of our guests is talking about how amazing ye both were and it was thee highlight of the evening. So thank you very, very much for sharing your wonderful talent with us! It is something we will never forget!
Kind Regards,
Judy & Donal x